Phoenix Title Loans – Auto Title Loans, Bad Credit Title Loans, the Valley's Premier Auto Title Loans Company
Call now for Title Loan assistance: (480) 499-4699
Already Have A Title Loan? Get Out Of High Monthly Payments.
When we're in financial disparity, we don't exactly have the luxury of shopping around for lower rates, lower payments, lower interest rates, or even just seeing what are options are. This usually leads us into loans with not so favorable terms, and high monthly payments. If you haven't figured it out by now, Phoenix Title Loans, LLC can help you out!
While most other title loan lenders in Arizona will leave you with an egregious monthly payment, and the attitude "if you want cash, it's my way or the highway," Phoenix Title Loans is different and does not hope to bankrupt our customers, but to help them out of unfortunate situations and will always work with them as best we can to find a monthly payment that works for them.
We Can Refinance Your Auto Title Loans!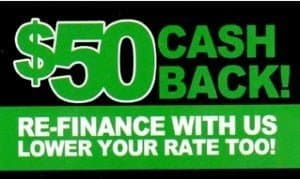 If your payment is too high, or your interest rate is too high, or maybe your title loan lender is just inconvenient for you to travel to and make your payment – we can help! In the vast majority of these situations, we're able to help our customers through lowering their monthly payment – often drastically!
The best part about this transaction is the fact that we handle all the grunt work for you.  If you'd like to refinance your auto title loan, we take care of your old title loan lender so you can wipe your hands clean.
The best thing about refinancing with Phoenix Title Loans is that we take all the hassle out of the situation.  We'll deal with your previous company, handle all the paperwork with them, and smooth along the process so that from that point on you only have to make payments to us.  With eleven valley wide locations, we can easily find one that is convenient for you to make the process even easier.
Bad Credit, No Credit, No Problem!
For just about any traditional loan a credit check is always mandatory, and can severely impact your chances at getting the fast cash you need from auto title loans.  At Phoenix Title Loans, we don't discriminate based on one small number.  Our auto title loans are credit check free meaning if you have no credit, bad credit, bankruptcies, anything that other institutions have turned you down for, Phoenix Title Loans will not.
The beauty of an auto title loan is that it's a form of collateral loan in which your vehicle is all the confidence we need to give you money.
Between Jobs or Self-Employed? We Still Have Cash For You!
Phoenix Title Loans is happy to help those who have fallen into a rough patch as we know these things are temporary.  Aside from credit score, another large determining factor when trying to get a loan is your employment and income status, meaning when you're out of a job or are self-employed the process gets exceedingly difficult.
At Phoenix Title Loans, we're happy to work around these kinds of situations and still provide cash to our customers with auto title loans.  These are the times that you're going to need cash the most, and Phoenix Title Loans is here to help the communities that have allowed us to remain in business for so long.  No matter how unique your situation might be, we're happy to help you evaluate your options at no cost to you and find a way to get you your cash.
Need Extra Cash For Car Repairs?
Salvage Car Title Loans
We've all been in fender benders, but maybe you got into a fender bender so drastic that, unfortunately, your poor car is now sporting a salvage title. When you take this car to most auto title lenders, they'll turn you away very quickly due to the salvage title. If you haven't gotten it by now, then you'll get it this time, Phoenix Title Loans, LLC can get you your money! Salvage titled cars are okay here!
Money to Repair Your Car
Maybe your car isn't salvaged, great, but maybe it's still in an undesirable condition and needs repairs and you just don't have the money on hand to fix it. We can help!  Through a trusted repair shop, an invoice of the work, we can get you a title loan and pay for your repairs directly!
Every Brand is as Good as Cash at Phoenix Title Loans
Every single vehicle has value at Phoenix Title Loans.  An auto title loan is a type of collateral loan meaning we don't have to be picky like many other title loan competitors.  Buick, Lincoln, Chevrolet, Toyota, BMW, Honda, Mazda, Chrysler, Volvo, Cadillac, Dodge, Ford, Nissan, you name it, we can loan on it!
You can contact us many different ways including filling out our Online Title Loan Application, visiting any of our eleven valley wide locations, or just using our live chat down below.  We can get you fast cash within the hour from auto title loans no matter your vehicle.
We Do All Types of Auto Title Loans!
Here at Phoenix Title Loans, LLC, we don't discriminate when it comes to auto title loans.  We pride ourselves on being able to make loans of all types, and of all situations, work for our customers.  Our number one priority is serving our customers, and offering so many title loan products allows us to do that the best.  Here's a quick rundown of the various types of title loans we can offer: