Restored Salvage Title Loans
LIFE HAPPENS. We all remember that horrific hail storm that absolutely destroyed Phoenix in 2010, right?  I was stuck outside in a golf cart, and was riddled with bruises when I could finally make it inside.  But the real victim of this hail storm wasn't me. The VICTIMS were all the poor vehicles that happened to be stuck outside on that fateful day.  In case you forgot, here's a video:
The cars caught in that hail storm were instantly turned into paperweights.  The worst part was that the owners, in the span of 90 seconds, had their car devalued immensely because according to the Motor Vehicle Division, all of these vehicles now had salvage titles, despite never having been in an accident, nor having any real damage done to them except to the body.  Phoenix Title Loans, understanding the true financial loss many people had just been through, is now offering Salvage Title Loans, Restored Salvage Title Loans, and even Restored Salvage Auto Title Loans in Phoenix, Scottsdale, Tempe, Mesa, and the Greater Phoenix Area, to help people recoup their financial losses.
So What Are Restored Salvage Title Loans?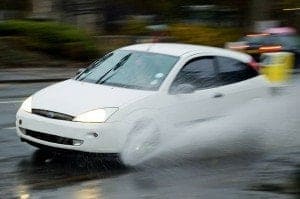 Many auto title loan lenders simply aren't out there to help the consumer.  They often will try undercutting the true loan to value on a vehicle. Then they consider charging exorbitantly high-interest rates. THEN they won't even give you the loan you need on your car. All this, simply because it has a salvage title!  If you need financial help and your car has a salvage title, it seems no auto title loan lenders are there to help you, except for Phoenix Title Loans' Salvage Title Loan!
There's no question about it, salvage title vehicles have a lower value as can be evidenced by simply looking at the prices posted on Craigslist.   On average, a vehicle with a salvage title is worth about 55%-60% of what KBB says is the Private Party value.  We loan on these cars in the exact same way that we do our regular auto title loans. That is, we loan about 50%-60% of this value for salvage titles.
How does a Restored Salvage Title Loans Compare to a "Regular" Title Loan?
The Salvage Title Loan works in the exact same way that any other auto title loan works.  We use a variety of factors to evaluate the value of your car and to maximize the loan to value we can give you.  The criteria we use for salvage auto title loans is slightly different in the sense we need to investigate why the car has a salvage title, but we can always give you the cash loan that you need one way or another.  For a list of these criteria, visit this page, or for Maximizing Loan Value, or for getting a Competitive Interest Rate. This same process applies to our Restored Salvage Title Loans and Restored Salvage Auto Title Loans as well.
If you need cash today, give us a call at the number up above, or fill out our quick quote form found here to get a quick quote via e-mail.  We can typically make a very fair offer that's in the ballpark of what we can loan through e-mail, phone, or chat, so give us a call!
Phoenix Title Loans has been offering Auto Title Loans for over a decade in all capacities.  We serve our customers, and will always do everything in our power to ensure their needs are met.  We continue to proudly serve the areas of Phoenix, Scottsdale, Tempe, Glendale, Mesa, and the Greater Phoenix Area.
What Makes Phoenix Title Loans Different?
We also have the benefit of accepting almost ANY vehicle as long as the title is free and clear. If it's not yet, contact us and we can assist as best we can. And even IF you chose to go somewhere ELSE for your auto title loan, don't worry. Phoenix Title Loans can still help you out!
We will even refinance title loans in case you feel it too much to handle. And at our location in Van Buren, our Boat Pawn customers have the benefit of us storing their boats with us while they pay. This frees up time for your loan while getting it paid. It also frees space around the home for whatever purpose you have in mind. What other Title Loan company is willing to provide these great services? Other than us, very few.
Multiple Locations in Arizona
One of the best features of Phoenix Title Loans is our multiple locations across the Valley of the Sun. Instead of desperately searching for an auto title loans Tempe location, or an auto title loan Scottsdale location or even an auto title loan Phoenix store, just look to us! We have eleven locations spread throughout the Valley, in Phoenix, Scottsdale, Chandler, Avondale, Mesa, Tempe, Casa Grande and so on. We even provided the kinds of auto title loans Casa Grande locals would want! And customers keep coming back to us as the auto title lender choice when they need a financial problem solved!