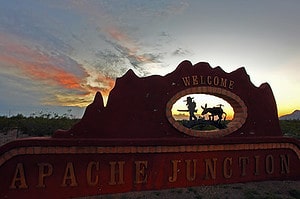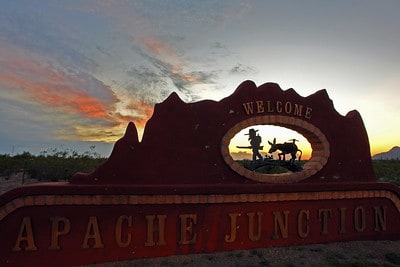 We service title loans to Apache Junction, Arizona in the following zip codes:
About Apache Junction, Arizona
To reach our nearest stores:
* – Signifies a PO Box Zip Code under our service.
Apache Junction is famous for its junction along Apache Blvd. Don't feel as if you hit a fork in the road of your life. Phoenix Title Loans gets you the money you need; Use our maps to get started.
Need Cash Today Apache Junction Residents?  Phoenix Title Loans Has the Cash to Lend You Now!
Apache Junction is one of the newest areas that Phoenix Title Loans has begun to serve.  We've spent our decade plus worth of years in the valley of the sun making sure that we institute services that serve each and every single one of its citizens.  Now that we're confident in our ability to get each person money (the worst feeling we've ever had to endure is sending people away without the cash they need) we're ready, willing and able to lend cash to anyone and everyone in the Apache Junction area.
This includes being able to provide cash loans on everything from trucks, boats, mobile homes, RVs, watercrafts, fifth-wheel trailers, and whatever else you might have in mind.  If it has a motor and a clean and clear title, we can get you cash today!  We can literally get you an auto title loan even if you're out of work.  You don't become the number one auto title loan lender in all of the Greater Phoenix area by not having the cash on hand, for those that need it today.
Just look up our reviews throughout the entire valley, you don't amass that many reviews and approval without being the best you can be.  Visit Phoenix Title Loans in Apache Junction today and get the fast cash you need.
What Do You Need to Get a Title Loan?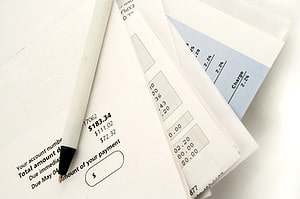 Apache Junction residents, getting a title loan could never be easier.  As long as you have a vehicle free and clear from any liens or loans, and the title of the vehicle is in your name, you can get a title loan today!  Phoenix Title Loans takes pride in the fact we lend more cash to more people than other title loan companies.
We also take pride in helping you come prepared, with all that you need to make the process as simple and swift as possible.  Because when you need cash, every moment counts!  Therefore, make sure that you have with you the following items to get cash in your hands in 30 minutes or less:
The actual clean and clear title to the vehicle, in your name.
Your valid and current Az Driver's License.
Your registration paperwork.
A recent utilities bill (phone, electric, water bill, etc.,)
Anything Else?
If you need to ensure that you receive a certain amount for an Apache Junction Title Loan, also bring along proof of insurance for the vehicle, with an extra set of keys to the vehicle.
Why and extra set of keys?  Because we still let you drive your vehicle during the term of the loan.  And bringing the extra set of keys lessens the risk of the loan itself.  Which, can equate to a higher cash offer or can lower the interest rate of the loan.  If you would like to know about more items that can help in your favor, please check out our Preferred Pawn Loans / Preferred Title Loans.
Our Auto Title Loans are solely based on the loan to value that your vehicle still retains.  Therefore, we do suggest bringing your car to one of our locations in its best possible condition.  Considering that the assessment is based on the interior, exterior and overall condition, mileage, make, year and model you can understand how this can be to your benefit!
Phoenix Title Loans continues to provide cash for title loans from Avondale to Casa Grande, including Apache Junction!