Get The Money You Need From A Travel Trailer Pawn at Phoenix Title Loans!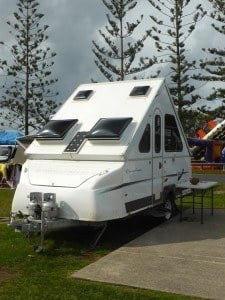 Travelers can't resist the joys of exploration with their trailers. Sometimes trips can get costly and expenses at home can pile up. We recommend a travel trailer pawn loan for the traveler's needing a little funding for the next destination!
Aren't you a Title Loan company?
We are, but we also have partnered with various Pawn Shops to help with certain services we provide in their stores. In this instances, we can offer a Travel Trailer Pawn thanks to them.
A travel trailer pawn loan is essentially the same thing as a travel trailer title loan.  In the State of Arizona, a travel trailer technically doesn't have a title the same as a vehicle.  In an auto title loan, the loan is issued on the title but when we talk about a travel trailer, it doesn't have a title in the traditional sense so a pawn loan is the more appropriate type of loan for it.  This is issued the same, but it just means we have to store the travel trailer ourselves.  The loan terms are the same ones that we would write out for an auto title loan, so don't worry about the fact that it is a pawn loan — you will still maintain a lower interest rate than most pawn loans and similar terms as a title loan.
What are you looking for in a travel trailer?
Basically, when you decide to pawn your travel trailer with us, we ask that you have the unit with all accessories that come with the unit. Meaning if there is anything missing from it, it will affect the amount of the loan. We also check out the condition of the travel trailer as well. Naturally, the better the condition, the better the value of the pawn loan.
Do you hold onto the trailer, and for how long?
Yes, we do hold onto the trailer through our storage facilities. Also, the hold is as long as you are able to repay the loan. Sometimes it's as early as tomorrow, or sometimes it could be up to 90 days (which is the duration of our loans, unless otherwise requested). We do request that any and all belongings that are not factory-provided (meaning personal effects, properties, etc.) be removed from your trailer. We can only safeguard the trailer itself, sad to say. If you have additional questions, please feel free to contact us directly. You can call our stores or simply click onto our FAQ page listed here.
Why offer this to your customers?
We at Phoenix Title Loans, LLC believe in the value of items that customers carry, be it in the home or on the road. That's why we like to offer a variety of pawn loans, so that our customers can get the money they need with the valuables they have. We offer these services to all of our locations throughout the cities of Tempe, Scottsdale, Phoenix, Chandler, and beyond. So if you need money without a lot of hassle, then stop by Phoenix Title Loans, LLC today and get the money you need!
Any other perks to Phoenix Title Loans that makes you stand out?
We also have the benefit of accepting almost ANY vehicle as long as the title is free and clear. If it's not yet, contact us and we can assist as best we can. And even IF you chose to go somewhere ELSE for your auto title loan Phoenix Title Loans can still help you out!
We can hold onto your travel trailers in case you feel it too much to handle. And at our location in Van Buren our Boat Title Loans customers have the benefit of us storing their boats with us while they pay. Free up time to get your loan paid and space around the home for whatever purpose in mind. What other Title Loan company is willing to provide these great services? Other than us, very few.
Multiple Locations in Arizona
One of the best features of Phoenix Title Loans is our multiple locations across the Valley of the Sun. Now you have a way to do a travel trailer pawn near you. Instead of desperately searching for an auto title loan Phoenix store, just look to us! We have eleven locations spread throughout the Valley, in Phoenix, Scottsdale, Chandler, Avondale, Mesa, Tempe, Casa Grande and so on. We even provided the kinds of auto title loans Casa Grande locals would want! And customers keep coming back to us as the auto title lender choice when they need a financial problem solved!