Motorcycle Title Loans in Maricopa
Maricopa is a rural community with plenty of open space to enjoy a good ride on a motorcycle. Away from major city traffic and out in the natural Arizona climate, the rural town is one giant scenic postcard. That also makes it difficult to handle bills and such when the closest major Valley City is Casa Grande or Chandler. Fortunately, Phoenix Title Loans can help you out providing Motorcycle Title Loans in Maricopa.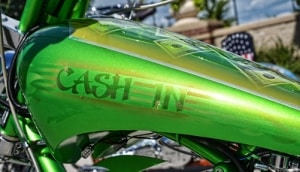 What Do I Need For Motorcycle Title Loans in Maricopa?
To get a motorcycle title loan, you'll have to visit either our Casa Grande or our Chandler location to get started.  However, we are aware the travel distance to either location, so before heading out make CERTAIN you have the following items ready to go upon arrival:
A Valid and Current Arizona State-issued Driver's License
A Motorcycle under your ownership (meaning no rentals)
The Title that is tied to the Motorcycle under your ownership
Your proof of insurance on the Motorcycle
The last thing you want us to say is "We need that, sorry."  Plan ahead and prepare for the journey to better your finances with our title loans.  Because it will help us put the cash directly in your hands that much faster.  Therefore, you are always welcome to contact us, at any time, at any one of our eleven locations.
What If I Don't Have The Necessary Items For This?
Don't worry.  All you need to do, is go to your nearest Arizona State Express Motor Vehicle Services to you.  Can we help you with getting your title or registration?  Unfortunately, no, we cannot.  However, we can provide the link that includes both locations we have to choose from.  One located in Mesa, and one right here in Maricopa City.  So… we may not be able to help you in every step, or every way.  But, we will always do our best, to make things a little bit easier, when we can.
Are There Any Particular Manufactures That You Look For?
There aren't any particular standouts. We're okay if you own such major names as Harley-Davidson, Yamaha, and more. Just bring your bike, custom build, or even your trike over to either location that is closest for you.
Why Go to Phoenix Title Loans?
As a trusted local title loan company in the Valley, Phoenix Title Loans continues to aid customers throughout our metropolis with programs that work for them. For over a decade, customers continue to thank us for getting them the money they need in times that they needed it. We've only reached that level of success through the trust of our customers, and we won't take that for granted. Visit Phoenix Title Loans today, and see the standard in action for yourself.