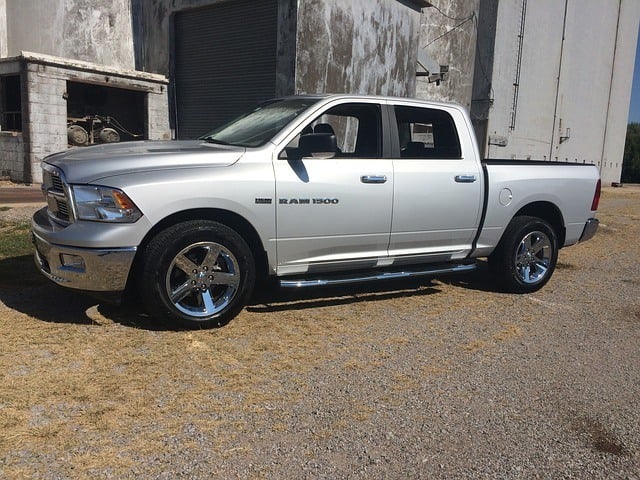 The RAM brand of trucks is a success story from the legacy of Dodge Motor Company. Now it has become as much a household name as its parents' company. When you think of RAM, you think of a powerhouse of trucks, and you would be correct. But you can also think that your RAM can charge through your financial issues via RAM Title Loans, another great offer courtesy of Phoenix Title Loans!
What Qualifies for RAM Title Loans?
To consider if your RAM truck qualifies for RAM Title Loans we do have some basic requirements:
1) A Clean Title from your RAM truck. Don't worry if it's not entirely clean, as we can assist to the best of our ability. Please understand that clean titles have a smoother process than a title held down by a lien; be aware of that.
2) The vehicle itself. Gotta see it with our own two eyes. That way, we can provide a proper assessment do the title loans.
3) A current, valid (Arizonan) State-issued Driver's License. Usually, just the driver's license is enough.
To help get started, you can fill out our online application. That information gives customers a head start and cuts down extra work at the store level.
If you have extenuating or unique circumstances, reach out to us and we'll be more than happy to help you evaluate the options available to you.  Having been the leading title loan lender for over a decade in Phoenix, Tempe, Mesa, Scottsdale, Casa Grande, and Chandler, we can almost guarantee our ability to get you a fast cash title loan.  Just take a look at our menus — our RAM Title Loans is just one of our newest services, but we've made sure to provide services to help every customer in every kind of financial situation.  We can get you qualified for a Dodge RAM Title Loan in a matter of minutes, just contact us by using our Online Title Loan Application, our live chat, or just stop on by any one of our eleven valley wide locations and we'll be happy to help.
What RAM Models Do You Take in?
The million dollar question. To answer this, we have a listing of various models we've taken. Keep in mind the list is not final and all potential vehicles are reviewed on a case-by-case basis. We offer our services to the following:
The RAM 1500
RAM 2500
RAM 3500
The RAM PM (ProMaster)
PMC (ProMaster City)
Previous Dodge RAM Models
The only concern we have for RAM models is their condition and if they are in working order.  If that's not the case currently, we can also work with you regardless.  We can do a title loan to help you get your Dodge RAM fixed as well.  When Phoenix Title Loans says we have a service that is guaranteed to meet your needs, we mean it.  Over the past decade we've put instituted services so that we reach each and every individual in the Valley of the Sun.  At Phoenix Title Loans, everyone gets the cash they deserve when they need it. There's no credit check required for the title loan.
All the customer needs to do is show up with their vehicle. It's a simple process, and we try to make it as easy to understand as possible.
Phoenix Title Loans is Your Best Title Loans Source!
Having been successful in the Valley for over ten years gives us the ability to provide the best service possible. This is due to several basic factors; the first of which, Phoenix Title Loans, LLC is a Valley-owned and operated business. Unlike national chains we can better empathize with our customers.  This allows us to have their trust, which in turn, gave us the ability to be successful and expand throughout the Valley of the Sun. Now's the time to get RAM Title Loans from a leading company in the field: Phoenix Title Loans! Stop by today; we'll get you started.