6 Best Places to Eat in Mesa, AZ
The City of Mesa is home to some of the best eating in Arizona. We have everything from Mexican Food, to Italian Food, to Indian Food, to German Food, to BBQ to Sushi, and the list continues.
Mexican Cuisine
One of the most favorite restaurants in Mesa, AZ is the Blue Adobe Santé Fe Grille, located at 144 N. Country Club Dr. Known for its blue roof, stained glass windows, and spectacular menu, this place is highly recommended. Some of the hot items on the menu include the Blue Adobe Burger, Garlic Shrimp Pizza, Salmon Wrap and Blue Seafood Enchiladas.
Italian
Another beloved restaurant in Mesa is Alessia's Ristorante Italiano located at 5251 E. Brown Rd. #108. This spot is best known for its authentic Italian food and large selection of wine and beer. Some of their famous dishes include: Vegetali Saltati, Bruschetta Caprese, Aio Oio, Erbe, Alfredo, Pesto Ravioli Arragosta, Brunello and much more.
Japanese
If you are in the mood for Japanese food, Osaka Japanese Steakhouse has authentic and modern Japanese food that will make you forget that you are in Mesa. Located at 6730 E Superstition Springs Blvd., you can stop by from 4:30 to 10:00 to enjoy their fantastic menu. They have imported beers including: Kirin, Kirin Light, Sapporo, and Asahi. Some of their best dishes include Teppan Steak,Teppan Salmon, Teppan Chicken, Pokemon Roll, Rockstar Roll, Osaka Roll, and the Golden Spider Roll.
Indian
Indian Oven off 1315 South Gilbert Rd. is also another good choice. Our employees in Mesa, AZ frequently eat here. They have an awesome dinner and lunch buffet that will never fail to satisfy you.  Which is why it is in our list of the 6 best places to eat in Mesa!
German
For all of the Volk, Zur Kate will make you feel at home with its authentic taste of Germany. This restaurant is family friendly, welcomes groups, has happy hour and a full bar, is handicap accessible and brings the taste of Germany to Mesa, Arizona. Some of the best items they serve are: Schnitzel Marinara, Gulasch, Stuffed Pork Roast, Rouladen, Hamhock, Cabbage rolls, and Sausage and Kraut. They German Drafts that they server are: Konig LUdig Dunkelweizen, Konig Ludwig Hefeweizen, Konig Ludwig Oktoberfest, Wasteiner Pilsner and Warsteiner Dunkel.
Mexican
One of the 6 best places to eat in Mesa is a restaurant in Old Town Mesa is Mangos Mexican Café. This spot is known best for the tacos and tamales. Some other famous dishes are the: Shrimp Taco, Shrimp Burrito, Shrimp Taco, Fish Taco, and Fish Burrito.
All of the other best places to eat in Mesa, Arizona are actually difficult to find.  There's a huge host of small businesses throughout all of Mesa that serve authentic, homemade, quality food.  This is what makes Mesa one of the best cities to find food to eat at.  Although you can't just look up a restaurant on Yelp, half the experience is actually discovering the restaurant.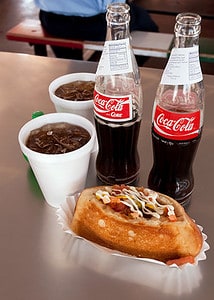 One of our personal favorites is a modification on a traditional hot dog called a Sonoran Dog.  Many of these can be found around Mesa, and usually set up at night.  It's a hot dog wrapped in bacon and then usually loaded with about a dozen different kinds of toppings.  If you can find one of these set up (they won't be listed on Google!) it's an absolute must.
There are many more restaurants in Mesa that are great as well. We have only mentioned the 6 best places to eat in Mesa, according to our preferences. Hope you enjoyed our insights.