Phoenix Title Loans has seen many brands of vehicles from Chevrolet. Hence, Chevrolet Title Loans are popular options to get with us at Phoenix Title Loans. We'd like to take a moment to show our customers just how we were able to help them in the past by providing some pics of accepted vehicles.
Chevrolet Title Loans Example #1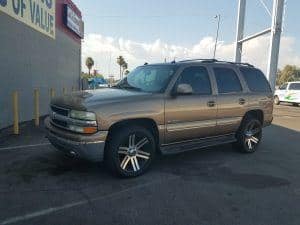 Our first picture is of this fine make and model, the Chevy Tahoe! Said to be the standard-bearer of SUVs, we eagerly awaited the arrival of such a model to come to one of our locations. As luck would have it, this customer was wise in using our services as they saw fit. The process took little time and before we all knew it, that customer was out the door with the cash they needed from the vehicle they drive! This is just the beginning!
Example #2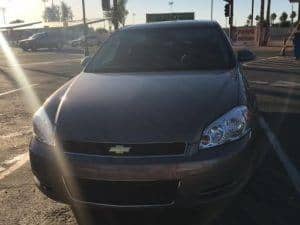 Here we have the illustrious Chevy Impala; an incredible work of art for the road. THIS customer understands the importance of their vehicle being well-kept, and thus was able to reap a larger loan. It would be even LARGER, but there were a few things missing that held it back a bit. That does not mean you are turned away if your car isn't near mint. Quite the opposite. We have been known to take cars on their worst day, on a case-by-case basis. It just means that if you are looking to get the MAXIMUM loan-to-value for your vehicle, we have to see the evidence of proper care.
Last But Never Least…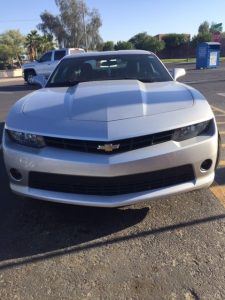 Our final example, for now, is the sports car of dreams, the Chevy Camaro. Powerful, beautiful, most muscle cars don't even come close. Another great example of a well-kept vehicle. Thanks to that, we are eager to give a little more incentive to the customer so they can take full advantage of our title loan programs. We like to get you the money you need without much time and hassle, and we love to show off how great our customers' cars are.
The Common Factor in These Chevrolet Title Loans Examples
Three Customers. Three Vehicles. Three Chevrolet Title Loans. The reasons vary but the end result is forever the same: getting the cash you need, from the vehicles you drive. This universal belief has kept our business going for over a decade, and we're still going strong! This is mainly due to great customers, like the owners of these cars. So no matter where you are in the Valley, be it Mesa, Tempe, Chandler, Phoenix, Scottsdale, Glendale, Avondale, or Casa Grande, we're going to provide the best deal for what you drive! Contact us today.
https://www.phoenixtitleloans.com/wp-content/uploads/2017/08/Chevrolet-Title-Loans-Chevy-Tahoe-Approved-Over-500-Dollars.jpg
3024
4032
MikeRivers
https://cdnssl.phoenixtitleloans.com/wp-content/uploads/2016/10/21013059/LOGO300x83.png
MikeRivers
2017-08-01 13:54:27
2017-09-01 15:14:59
Chevrolet Title Loans