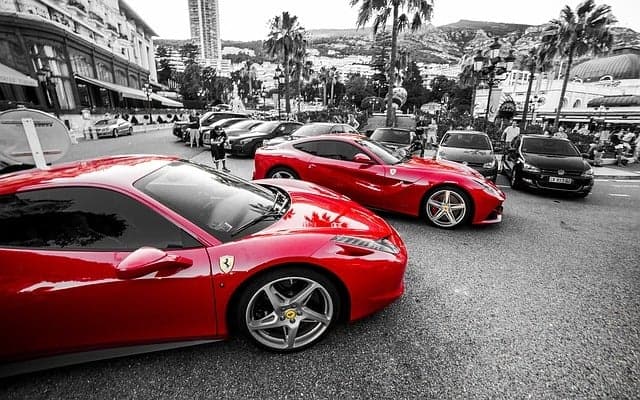 In the realm of Formula One racing, there is no other vehicle more well-known than the Ferrari. This one vehicle owns the F1 Racing World as a symbol of speed, while elegantly breezing past its competition. Since its creation in 1939, no other racing machine has come to match the success of constructors championships and drivers that Ferrari owns. Now Ferrari has earned another victory: Ferrari Title Loans made possible here at Phoenix Title Loans.
Ferrari Title Loans help you in the Fast Lane!
The Ferrari will always be a racing luxury machine, and continues to do so. With that said, you will need to put her to the test when you are able. This could mean participating in high-end racing tournaments; this will cost a pretty penny. Did you know you could have that cost covered simply applying for the Title Loan? In just less than one hour, you could easily get the money you need when you need it. And should you win the tournament, just return only the portion used for the title loan. You earned the rest, champion!
There's no Shame in Getting your Money's Worth
Any owner of a Ferrari already knows they possess a symbol of Speed, Status, and Style. Also, you are eager to see this return on your investment or you may want to further optimize it to your liking. With Ferrari Title Loans, you have that freedom of choice thanks to cash in hand. Also, well maintained Ferrari's can last significantly to help you achieve future victories in racing tourneys. Why slow down when you can rev up your winnings; all thanks to the minor picker-up that came from Phoenix Title Loans.
Cover maintenance without digging too deep into your pockets
You know that maintenance of a high-end machine can be a challenge, and that challenge is met with our title loan. The only things you need are a Valid Arizona State-Issued Driver's License and the Title pertaining to the Ferrari. With this, along with some paperwork at our store, you'll have the cash you need in less than an hour's time! True, not as fast as lap times, but pretty quick for a Title Loan Company.
A Ferrari is a highly illiquid product.  If you do need some quick cash, there's no chance that you're going to simply liquidate the car in a matter of days.  While a Ferrari title loan is most likely unattractive to you actually owning one, turning it into a collateral loan can actually be the immediate, low cost option to get the tens of thousands of dollars that you need.  Even if it's just a week, Phoenix Title Loans can make it happen in just a matter of hours.  We've loaned on incredibly high end Ferraris, and being owners ourselves, we understand them deeply.  We'll give you the fairest valuation, the fairest interest rate, and the most agreeable terms possible.  There's no other choice in who to get a title loan through than Phoenix Title Loans solely due to our knowledge.  You can't simply try to liquidate $80,000.00 from just anyone.  Enjoy the personal and knowledgeable approach only found through Phoenix Title Loans when you need a Ferrari Title Loan.
Cross the Finish Line!
With the freedom of luxury that Ferrari brings and the money we can give you through our Ferrari Title Loans, you can cross that finish line with style and grace! Also, you have the confidence to not only pick a location to start this process, be it in Tempe, Scottsdale, Chandler, etc.; but you can also start off by applying online. Phoenix Title Loans will be here. Think of us as your helpful Pit Crew geared to go!