Kia is slowly becoming more and more a household name; from the Sportage, to the Optima, even down to the Soul! This brand of sedan vehicles has made a big splash in a market predominately owned by Ford, Chevrolet, and Nissan, to name a few. Phoenix Title Loans is aware of such movements in an industry like the automotive one. It was critical of us to create Kia Title Loans for when customers needed money from their Kia vehicles.
Do I Need a Good Credit Score to get Kia Title Loans?
Short answer: no. This is because your credit score is not a factor when getting Kia Title Loans. Your KIA is the factor. Make sure to bring it to our locations and we'll get you an assessment, leading to cash in hand should you accept. So you can have Good Credit, Bad Credit, or even No Credit; you're welcome to get your title loan with us.
An auto title loan is one of the lucky kinds of cash loans that can actually ignore many classic metrics such as income and credit score.  While some title lenders like to make title loans exclusive such as considering income and even job type, Phoenix Title Loans understands that it's a collateral loan meaning that all that matters is the condition of your vehicle.  We like to take time in evaluating the interior, exterior, and running quality of your Kia vehicle to get you the most amount of cash we can.  This allows us to ignore credit, and being Kia title loan experts we'll get you the most cash possible.
Kia vehicles are some of those that we trust the most, making them some of our most valuable and lucrative title loans to our customers.  Particularly with Kia's recent line of vehicles like the Optima, they've gained a newfound reputation for reliability and long lasting durability.  This allows us to loan more aggressively than we otherwise would in many situations.  Having been proud owners of Kias in the past, we know their value and particularly how to appraise them more accurately than any of our competitors.
Is the Process the Same?
Short answer: yes. We want to make it so that no matter the type of vehicle, you can get the same great benefits all owners receive from us. No one type stands out above the other, but know we can help you with your type of make and model. The method is universal:
Verify you are the owner of the vehicle by having a title. This title is tied to said vehicle. Your name must be listed as the owner of the Kia. It is an obvious thing to say, yes, but we can never overstress how important this is.
Having an Arizona State-Issued ID that is current and valid. A Driver's License fits the bill perfectly, however it's important to stress CURRENT and VALID. This is mainly for the verification of address as per the statutes set by the State of Arizona.
Actually have the vehicle. This is a giveaway. We'll need to see the vehicle in order to provide an assessment and thus, a loan to you. Without it, we might as well do the Hokey-Pokey and turn ourselves around.
Visit any of the locations nearest you to finalize the process and get the money you deserve! We have a listing of all locations in the Valley right here.
How Have you Helped Valley Residents in the Past With This?
Indeed we have. In fact, here is a few pics of customer vehicles we've assisted.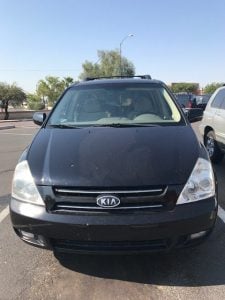 Here we have a customer just needing a bit of money, so we offered a loan for their needs. In fact, for this particular customer, it was just to cover a few bills they had lapse while transitioning between jobs. This is a common occurrence we've seen over the years. The amount was suitable to this customer's needs and they were able to cover the cost again. However, the customer could have EASILY gained more for their loan if the car was completed with the appropriate accessories. But this is just one customer as an example. Here is another.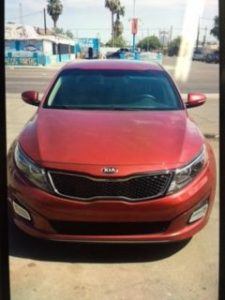 Here's another fine example of Kia Title Loans. This customer actually just realized the extra money coming from our title loans. Therefore, this customer wanted to see what we could offer. The customer was satisfied with the offer. Even more excited to partake of the money too. The great thing about this example of Kia Title Loans is that it wasn't the full value. It pleasantly surprised them. They were also surprised we offer storage options for their vehicle. They opted to not partake of them during that time.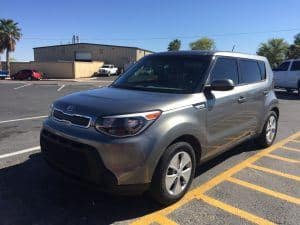 Finally, to wrap this particular set of examples, we have the more practical approach: the business customer. This customer was just as the previous example. The difference is that they used their vehicle for business purposes. Having realized they can acquire extra funding from their very source of transportation, they jumped onboard. The process was quick and easy. They had their money right away. Fortunately, since their business is highly-lucrative, they were able to pay back within a WEEK. And now we know we can offer title loans for this customer again.
Here's the Bottom Line?
In conclusion, we are here to help offer Kia Title Loans to Kia owners when they need money. We have multiple locations throughout the Valley. If you live in Mesa, Avondale, Scottsdale, Casa Grande, Tempe, Phoenix, and within the Phoenix Metropolitan Area, there's a location within your reach! With our years of experience (over ten years) and with our financial strength (thanks to our customers), you get the option of money when you need it. Come to Phoenix Title Loans today!
https://www.phoenixtitleloans.com/wp-content/uploads/2017/09/Kia-Title-Loans-Phoenix-Title-Loans-1.jpg
500
1370
MikeRivers
https://cdnssl.phoenixtitleloans.com/wp-content/uploads/2016/10/21013059/LOGO300x83.png
MikeRivers
2017-09-09 08:00:24
2017-12-04 12:07:14
Kia Title Loans