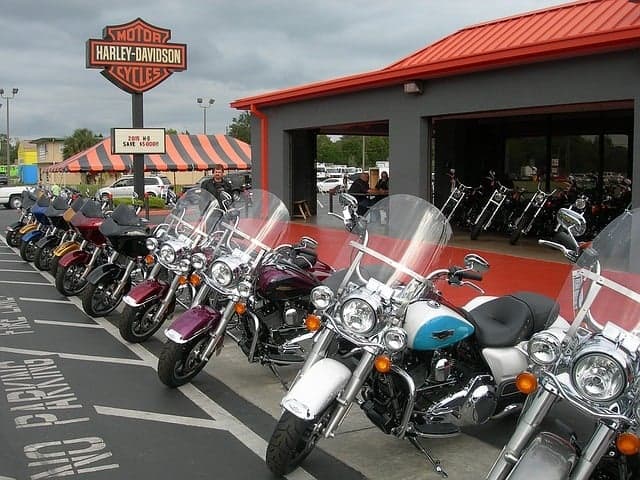 If there were ever a greater symbol of the undying American Spirit, then it would be in the Harley-Davidson. Over a Century of craft, branding, and perfection despite overwhelming odds and financial ends. From its unforgettable framework to the unmistakable rumble of its engine, no one can deny the allure of a Harley. It is a motorcycle with a history as rich and deep as the United States of America herself both with its highs and lows. And to that end, we here at Phoenix Title Loans wish to continue showing our appreciation with Harley-Davidson Title Loans for all fans of the brand. Get ready to rev up some cash!
Harley-Davidson Title Loans are Easily Recognizable
Just like the Patented 45° Engines used to create the unique Harley Davidson 'growl,' our Title Loans are just as distinct. Our Title Loans aren't too much a hassle either. You don't need to go through hoops either. Our Title Loans are easy to apply and usually takes little more than one hour. In most cases, the process is between 10-15 minutes. All we ask is you bring an Arizona State-Issued Driver's License and your bike's title along with the bike itself.
The other great aspect about a Harley Davidson title loan is simply their intrinsic value.  Classically known as the king of all choppers, these iconic motorcycles draw attention wherever they go and retain their value simply due to the fact they have the beautiful Harley Davidson tag on them.  This allows us to offer unique loan situations that we typically wouldn't be able to offer on other sorts of loans.  This is because Phoenix Title Loans can be confident about offering a Harley Davidson title loan as we know that you not only cherish your vehicle above all else but also that they will retain their value for years to come.  This allows us to give you better interest rates, lower monthly payments, and the highest loan to value, especially compared to other title loan lenders who will simply look at Kelley Blue Book then give you a low ball offer.  Not at Phoenix Title Loans: the value of your motorcycle will be treated as such and respected.
We love to see all kinds of Harleys
Some of our staff have a big passion for Harley-Davidson fans, so we know how to appreciate a hog, just like any member of the Harley Owners Group (aka HOG). In particular, there is a great deal of love for these models; the Harley Sportster XL50, the Harley FLHR (Road King), and Softail Heritage Classic(the Harley FLSTC). This is not to say we don't appreciate the other models, as we welcome all Harley-Davidson Motorcycles to receive our Harley-Davidson Title Loans.
Harley-Davidson motorcycles we don't always get to see so often, which is why we're writing to you today.  Many people don't even consider the fact that their Harley-Davidson is as good as cash   Our associates get to see motorcycles all the time but not your prized Harley-Davidson so keep it in mind the next time you need fast cash that Phoenix Title Loans, no matter if you're in Tempe, Mesa, Scottsdale, Chandler, or Phoenix, is here to help no matter the circumstance.
Safeguard and Showcase Your Hog with Us
Another benefit of our Title Loans is we offer a choice. You can keep driving your hog while the title loan is in effect. If that is not what you desire, we offer the ability to store your Harley-Davidson while you can make extra space for whatever you want.
With so many options at your fingertips, it's like the open road of Title Loans! So ride hard down to Phoenix Title Loans; any location will do: Scottsdale, Mesa, Avondale, Glendale, Tempe, Chandler, you name it! We're here to get you the money you deserve from your Harley!